The Ministry of Foreign Affairs of Panama, taking advantage of the recommendations of international organizations and the health measures adopted at the international level to prevent the spread of COVID-19, has developed a virtual Cultural Program to celebrate together the 117 years of the Republic of Panama and 199 years of Independence from Spain.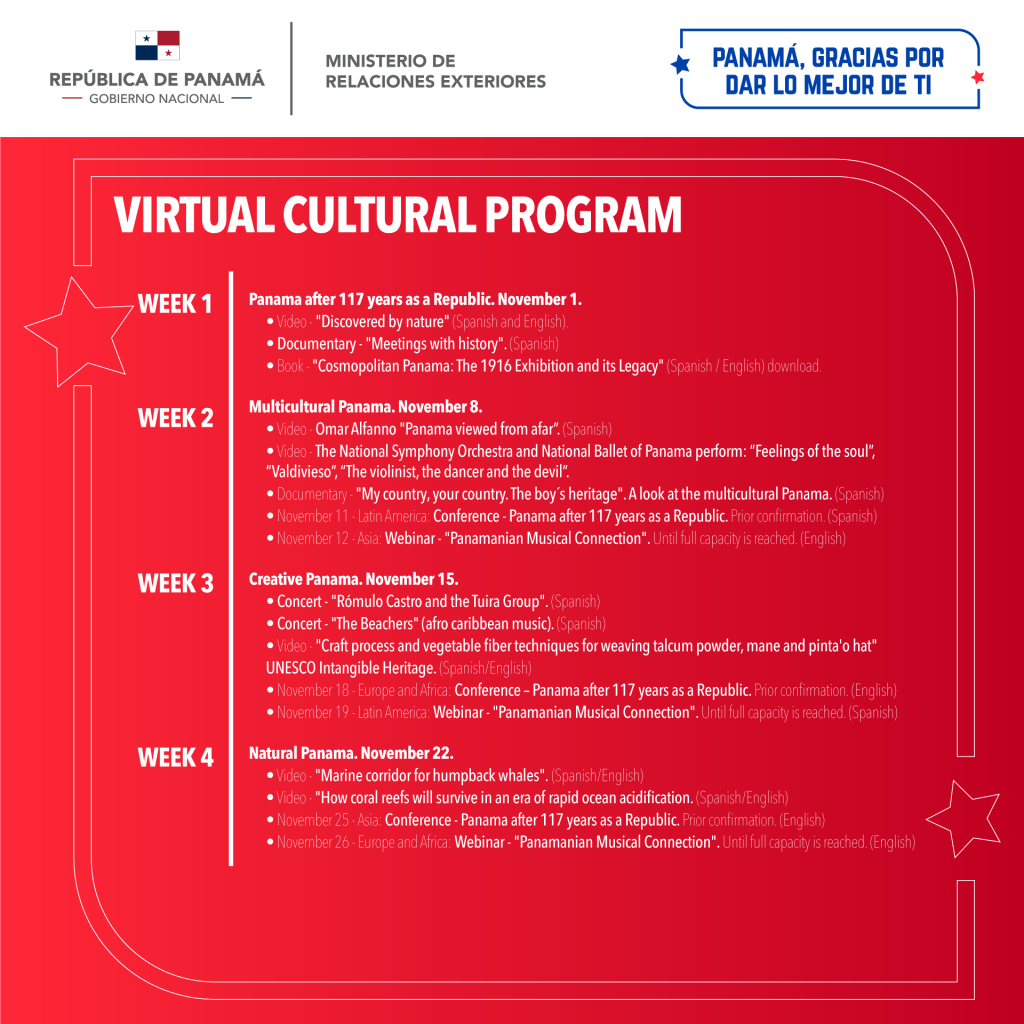 *click the program to watch the content:

Panama represents an immense value for biodiversity on a global scale, considering that, since our emergence from the bottom of the sea 3 million years ago, we have been a biological bridge for various species. This biological wealth is in danger due to the effects caused by climate change, which is why Panama has committed itself to carrying out a series of actions to address this problem, despite the fact that contributions from global emissions are very low, as we believe that this is a commitment we have for present and future generations if we want them to enjoy a legacy and to continue to belong to one of the regions with the greatest diversity of ecosystems and habitats in the world.
"Marine corridor for humpback whales"
In 2005, Panama's Marine Corridor was established for the protection and conservation of these marine mammals. This initiative has allowed the development of activities such as the sighting of these species in the Panamanian Pacific, often very close to the Bay of Panama. Several plans and projects have been made to achieve the best coexistence without affecting their environment and allowing us to learn more and more about them. These species move every year from the Antarctic waters to the tropical waters of the Pacific of Ecuador, Colombia, Panama and Costa Rica.
"How coral reefs will survive in an era of a rapidly acidifying ocean"
Ocean acidification occurs because the ocean absorbs much of the carbon dioxide from the atmosphere. According to a UN report, the acidity of the oceans could double by 2100. To imagine future scenarios, researchers at the Smithsonian Tropical Research Institute in Panama are conducting controlled analyses on shallow reefs along their coasts, whose results underscore the importance of protecting corals.
Although the country's contribution to global emissions is practically non-existent (around 0.02%), Panama is extremely vulnerable to the effects of climate change, whose consequences are already being felt around the world. For Panama, climate change is a tangible reality that we must face.
CREATIVE PANAMÁ:
The well-known creative and cultural industries have become very important in many countries due to the proven economic relevance of this sector for economic and social development. Creativity and innovation are abilities of all human beings since we adapt to, and take advantage of, the different resources that surround us to continue our personal growth. The talent of Panamanians has gradually led us to position ourselves in different areas within the music, film, gastronomy and fashion, literature and recently we have ventured into the development of new technological platforms. An example of this is the designation of Panama as a Creative Gastronomic City by UNESCO and the recognition of the techniques of weaving the pinta'o hat (typical hat) as part of the intangible heritage of humanity. Being a transit country has allowed ideas, creativity and innovation to coexist and flow for the benefit of all.
Concert – "Rómulo Castro y el Grupo Tuira" (Panamanian musical genres in fusion with sounds from other latitudes)
Rómulo Castro is a Panamanian singer-songwriter with shared origins between Spain, Mexico and Cuba. He is the composer of an extensive musical work that focuses on the problems and hopes of his time. His songs are hymns to Panamanian culture and the social struggles of the world. He has performed in Panama, Costa Rica, Nicaragua, Honduras, El Salvador, Guatemala, Mexico, Cuba, Dominican Republic, Venezuela, United States, Spain, Brazil and Israel.
Concert – "The Beachers" (mix of calypso, salsa and bolero)
Los Beachers is a Panamanian music group formed in Bocas del Toro (province). Its music is tropical with strong influence of Caribbean rhythms (soul, soca, guaracha, calypso). More than 50 years of artistic career have passed, and they are still sharing their music, because they are a reference of the era of the "Combos Nacionales", small musical groups (1970).
Craft process and vegetable fiber techniques to weave talcs, manes and pinta'o hat". The traditional Panamanian hat
The pinta'o hat is a typical and traditional accessory used by men and women in Panama. The craft technique for its preparation is part of the Intangible Cultural Heritage of Humanity of UNESCO, since 2017.
This hat must not be confused with the "Panama hat", which originated in Ecuador, but was highly commercialized in Panama among travelers and workers who crossed from one ocean to another during the construction of the Panama Canal at the beginning of the 20th century.

Defining Panamanian society solely by the color of its people's skin would be very complex, since we are a country of many colors. Panama has a small territory in which 7 indigenous groups, each with its own distinctive customs, live together. Their territory varies from the forests and savannahs to the mountainous and coastal areas throughout the national territory and some live-in special areas called "comarcas". We also have Afrodescendant roots from southern Africa and the Caribbean, and other great migrations that have left their legacy in the Panamanian population, among them Chinese, Hindustani, Arabs, Europeans and many others. We live together in community and there is respect for religious diversity. All these cultures have enriched us and have made Panama a mixture of customs, which we have embraced and respected, always welcoming foreign contributions.
"Love you from afar", Omar Alfanno
The Panamanian singer and songwriter, Omar Alfanno, winner of a Grammy and many other international awards, interprets the song "Panama viewed from afar" (Panamá de Lejos) written by Dr. Adán Ríos, based on his poem "Querer de Lejos"(To love from afar). Dr. Rios is a renowned Panamanian scientific who has been living abroad for a long time and has made important advances in the search for an-HIV vaccine.
This song is dedicated to all the people who are living outside their countries and miss their homelands. The video was recorded in different locations of Panama, highlighting our nature, cultures and traditions.
Musical pieces performed by the National Symphony Orchestra and National Ballet of Panama.
The National Ballet (1973) and the Symphony Orchestra (1941) are institutions that have always delighted us through their performance. The pieces performed are a mixture of elegance and grace from traditional Panamanian compositions. Among them: "Feelings of the soul", "Valdivieso" and "the Violinist, the dancer and the devil".
"My country, your country. The boy's heritage". A glance to the multicultural Panama
"The identity of a nation is like the face of the people, thanks to which we can recognize each other. A country that does not defend its identity will end up being like a house without mirrors". This documentary tells in 20 minutes stories of our people, their experiences, the contributions that they made to future generations, to avoid loss of our cultural heritage. Director: Catalina Sanmartín M. Producer and music: Rómulo Castro. Assistant Producer: Reina Rodríguez. Director of Photography: Luis Gómez. Cameraman and Audio: Pompilio Campos. Mastering: Luis Thomas.

Since 1903, Panama has become a sovereign and independent State that, long before its formation as a Republic, has played a significant role in human history, from the appearance as a land bridge (Isthmus) for the transit of different species throughout the American continent, to the union of the two great oceans in the 20th century.
We are a nation that has fought for democracy, institutional stability, and the enhancement of human dignity, and has also sought to promote social justice, general welfare, and regional integration as a mediating, conciliatory country that abides by international law.
Today, we proudly celebrate 117 years of the Republic of Panama.
Documentary – "Meetings with history" (Spanish)
Documentary where our history is told in a different way. A journalist and historian, Maximiliano de la Vega y Galán, played by the actor Randy Domínguez, invokes decisive characters in Panamanian history and speaks with them
Book – "Cosmopolitan Panama: The 1916 Exhibition and its Legacy" (Spanish / English)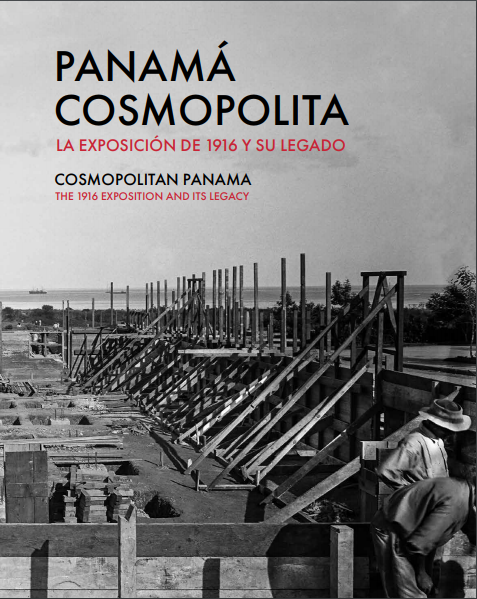 Panama City is a cosmopolitan city that traces its fascinating history with the neighborhood of La Exposición, since its origins to the present time. It was in this area that the great fair was held in 1916, called the "Panama National Exposition" to promote the country and its Canal. Authors: Iraida Icaza, Felix J. Chiru Barrios, Narciso Garay, Eduardo Tejeira Davis, Michael Lee Conniff, Alvaro Uribe, Alberto Gualde, Andrea Miranda and Reinier Rodriguez. Edition and coordination: Adrienne Samos.