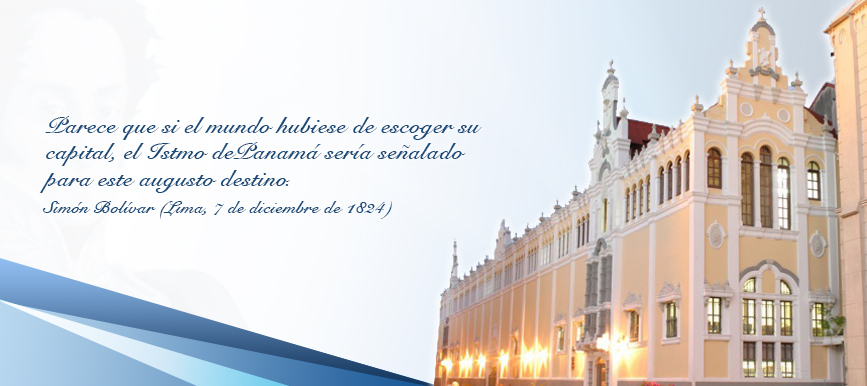 Historical review


In the late seventeenth century, part of the Franciscan Convent was built, which was expropriated by the government of New Granada, after our independence from Spain in 1821. It later had several roles, as military barracks; a hospital for foreigners; the La Salle School, and the Simón Bolívar Institute.
Bolivar Palace hosted important events such as the Amphictyonic Congress convened by the Liberator Simon Bolivar in 1826, and the drafting of the first constitution of the Republic of Panama in 1904.
In 1999, Bolívar Palace was vacated to comply with the Memorandum of Understanding between Panama and the United Nations, which declared the former Chapter Hall of the Franciscan Convent as a World Heritage Site in 1997.
The Proceedings Room was inaugurated during the 10th Iberoamerican Summit in 2000, which houses the Isthmus Protocols, original documents of the Amphictyonic Congress provided by Brazil, as well as a replica of the Sun Sword, used by Simon Bolivar, given by Venezuela.
In 2003, the Ministry of Foreign Affairs moved its headquarters to Bolívar Palace.
Bolivar Museum


Bolivar Museum is protected from the weather by a glass chamber and has two displays:
Chapterhouse
Chapterhouse of the former Convent and seat of the Amphictyonic Congress in 1826, summoned by Simon Bolivar for Latin American integration.
Proceedings room
Inaugurated in 2000, it houses the Isthmus Protocols, original documents of the Amphictyonic Congress, which are kept in an airtight structure to ensure their safety.
The replica of the Sun Sword was a gift of the Bolivarian Republic of Venezuela. The original was a gift from Peru to the Liberator. It is clad with 18 K gold and 1374 diamonds.
Archaeological findings
Parts of the original structure of the 17th century were discovered during excavations of the central courtyard. Known as the corridors, they were underground channels that carried water to parts of the convent.
Four Pavilions
The Liberators' Plaza was built at the center of Bolívar Palace, as a tribute to all those who fought for Latin America's Independence. At its center lies the Wind Rose, which points to each of the palace's pavilions.
The four pavilions of Bolivar Palace are:
Joan of Arc (1921)
Jean-Baptiste de La Salle (1926)
Constitution (1931)
Centenary (2003)
Bolivarian Society of Panama
The Bolivarian Society of Panama was founded in 1926, at the Pan-American Congress, commemorating the centenary of the Amphictyonic Congress of 1826.
The congress approved the foundation of the Bolivarian Society in all Latin American nations, to continue the legacy and fight for the Liberator's ideals.
The Bolivarian Society of Panama was created by its Founding Act on July 20, 1929, and is located in the Joan of Arc Pavilion.